Perito Moreno Glacier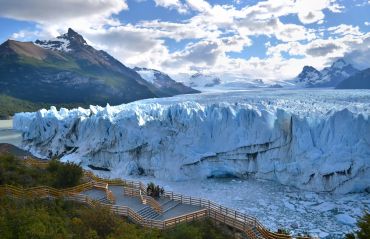 Perito Moreno Glacier - one of the most amazing creations of nature. He is in Argentina, in the National Park Los Glaciares.
Perito Moreno - is one of the glaciers, which are part of the Patagonian ice field, located in the Andes. Age glacier has no less than thirty thousand years, its length is about thirty miles away, and the area - 250 square kilometers. Interestingly, the glacier is the third largest in the world's largest reserve of fresh water. Perito Moreno Glacier was named after the 19th century explorer Francisco Moreno.
Every year thousands of tourists come to Argentina in the southern part of Patagonia, to admire this wonder of nature. The nearest village - El Calafate. From here, tourists get to the glacier. At the entrance to the National Park Los Glaciares, where the glacier, there is the control room. Here purchase tickets. Inspection begins with a specially equipped platforms, offering beautiful views of the Perito Moreno Glacier. Here is clearly visible glacier tongue, the width of which is five kilometers away, and the average height - sixty meters. Sam glacier climbs mountains towards Chile. Perito Moreno is constantly moving while sliding into the lake. Periodically from the glacier break off huge chunks of ice that fall with a crash into the lake and then swim in the water as icebergs.
Below are lookouts trails, fenced railings. If you go down these paths, we can consider it a miracle of nature with pretty close. You can also get close to the glacier on the pleasure boat that sails along the wall of ice. You will enjoy a rich blue color of the glacier! Better not to hide cameras to watch and capture the moment when a glacier break off chunks of ice. And what a sound when they fall! By the way, the most daring can go hiking on the glacier. However, it is worth remembering the important detail. This is not an easy walk, and your physical training must meet a certain level. There are age limits: not allowed to persons under 18 and over 45.
National Park, on the territory of which the Perito Moreno Glacier, was listed as a UNESCO World Heritage Site.